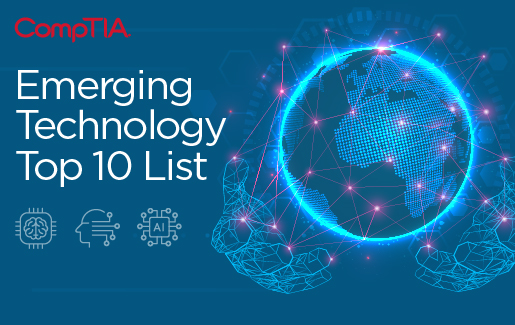 Recognizing the new technologies that seem poised to make a near-term impact on businesses has been a focus of CompTIA's Emerging Technology Community's annual Emerging Technology Top 10 list. Use cases exist for a variety of technologies and interest is high among IT solution providers looking to partner strategically with their clients, but it's no secret that the hype surrounding some emerging technologies has outpaced adoption—with the exception of artificial intelligence (AI) and internet of things (IoT).

Since 2018, AI and IoT have landed in the top 3 on the Emerging Technology Top 10 list, and with good reason—use cases that highlight the power of AI and IoT solutions are plentiful, helping companies create efficiencies, save time, and increase revenue. CompTIA's 2021 Trends in Managed Services survey also highlighted this trend with IoT in particular with 46% of MSPs saying they already offer IoT services.
Illustrating Opportunities in AI and IoT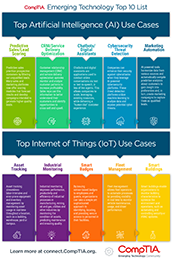 Recognizing the opportunity for IT solution providers, the 2021 Emerging Technology Top 10 list takes a deeper dive into AI and IoT, illustrating how they're transforming business with the top five use cases for each technology. During ChannelCon Online, Greg Plum, SVP, strategic alliances, Markee.io, and chair of the Emerging Technology Community, and Khali Henderson, senior partner, Buzz Theory, and vice chair of the Emerging Technology Community, provided insight into why their community zeroed in on these two technologies during the session, Practical and Profitable Applications for Emerging Technology.
"For this year's list, we made a conscious effort to move to a more prescriptive model, allowing our audience to understand not only the types of technologies that are emerging, but how they are being leveraged and monetized right now. Our mission to move 'from promise to profit' underscores our focus on providing meaningful case studies and playbooks enabling MSPs and solutions providers to leverage the two most prolific advances in recent years, AI and IoT," said Plum.

To determine the top use cases for both technologies, the Emerging Technology Community utilized CompTIA data from a recent quantitative study that consisted of an online survey fielded to professionals during February 2021. A total of 400 businesses based in the United States participated in the survey and identified the most common use cases for IoT and AI. Based on input and expertise from Emerging Technology Community members, the list was then narrowed to five use cases for each technology.
Components of a Larger Ecosystem
According to CompTIA's whitepaper 'The Role of Emerging Technology in Digital Transformation,' emerging technologies are components of technology solutions rather than being standalone pieces to be implemented. This changes the main task of IT from maintaining a platform to crafting tailored solutions. This year's Emerging Technology Top 10 list recognizes that this shift in mindset and operations is what will drive the profitability of AI and IoT solutions.
"How can MSPs get a piece of the pie? Unlike some technologies MSPs sell like workstations or servers, AI and IoT are not standalone products in and of themselves, but components of larger solutions designed to drive business outcomes. That's another reason why we're drilling down on use cases with our top 10 list. We want to help MSPs identify where the business opportunities are," said Henderson.
According to the Emerging Technology Community, the top AI use cases in 2021 include: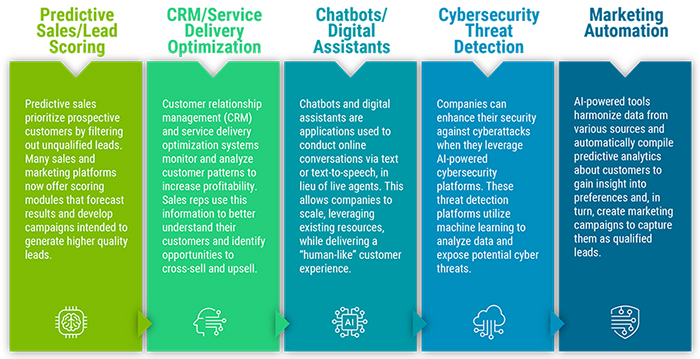 Predictive Sales/Lead Scoring
CRM/Service Delivery Optimization
Chatbots/Digital Assistants
Cybersecurity Threat Detection
Marketing Automation
The top IoT use cases are: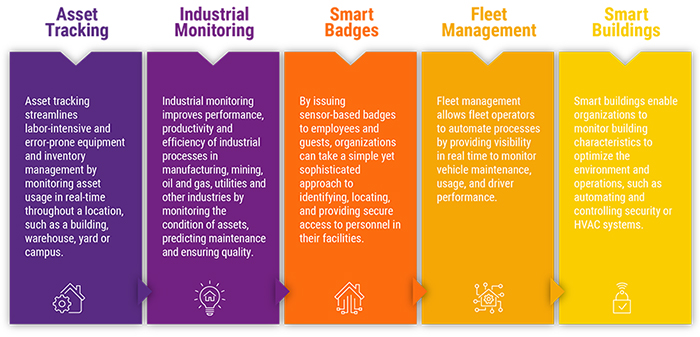 Asset Tracking
Industrial Monitoring
Smart Badges
Fleet Management
Smart Buildings
The full Emerging Technology Top 10 list provides additional information about these use cases. You can also watch the ChannelCon Online session, Practical and Profitable Applications for Emerging Technology, and learn more about how to get involved with the Emerging Technology Community.