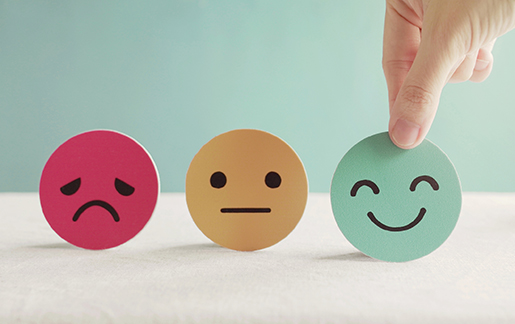 There's plenty of evidence that selling indirectly through solution providers is an extremely efficient route to market for tech vendors. However, that success is often predicated on those same vendors knowing how to sell through the IT channel—why they want to do it, where to find the best partners, and when to use them. That, it turns out, is not so simple.
The reality is that many companies struggle to gain traction with the channel, frustrating both the tech vendors and those partners trying to work with them—let alone customers caught up in the process. To help vendors better understand where they stand regarding their channel progress, and how they can improve, CompTIA's Channel Development Advisory Council created a Channel Readiness Assessment that provides a current status but also prescriptive advice on where—and how—vendors can make improvements.
CompTIA is aggregating the anonymous results and thus far the data indicates that tech vendors want to be successful in the channel, are committed to developing channel programs, but still need some help to get there. Here's a closer look at some of the more interesting numbers:
Top Considerations: Increased Reach, Access to New Markets
Tech vendors were asked why they're considering a channel strategy. More than 80% of respondents confirmed that additional scale and reach opportunities that channel programs provide were a top priority. Other top considerations included access to new markets, sales force multiplier, leveraging channel expertise, and lowered customer acquisition costs.

The respondents' top answers aren't surprising, given that they are all long-recognized channel benefits that provide vendors with valuable data on how to grow their business, according to Ray Orsini, CEO at OIT | OITVOIP, a Miami Lakes, Fla.-based unified communications provider, and a member of the Channel Development Advisory Council.

"A channel strategy gives you direct access to partners and the ability to get feedback from the people you're serving. That allows you to adjust and grow accordingly, expanding scale and reach," Orsini said. "A vendor might not understand the landscape or have their own ideas which may or may not be accurate. Because of that immediate feedback, you can maneuver quickly and take advantage in a far better fashion."
Vendors, Partners Share Customer Ownership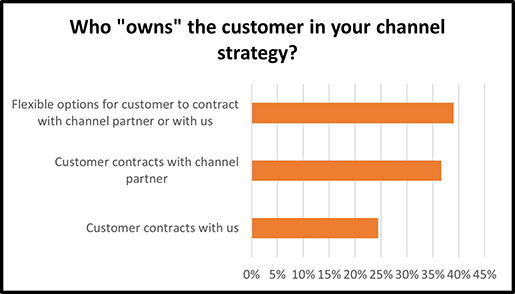 Asked who owns the customer in their channel strategy, tech vendor respondents chose a hybrid model as the most popular choice (39%), allowing the customer the option of contracting with the channel partner or the vendor. Another 37% said the customer contracts with the partner, while 24% said the customer contracts with the vendor, with the partner assuming a more indirect or agent-like relationship.
Dan Shapero, president and COO of TeamLogicIT and a member of the Channel Development Advisory Council, speculated that vendors recognize that there isn't a one-size-fits-all approach to building a channel program and that different models may be necessary to best reach customers.
"Take telecom services for example. There are different taxation issues, billing issues beyond what you might see from a typical service provider. A commission model is more common in that segment of the market," he said. "Or different lines of business may require different routes to market. You can have an enterprise strategy with clear lines of engagement with customers, but you can still embrace a channel for different units or segments that tackle a different market."
Missing In Action: Partner Advisory Boards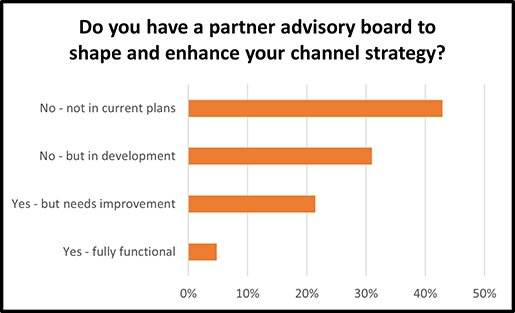 Many tech vendors rely on partner-led boards or councils to gain valuable feedback about what's going on in the market and how to improve products, services, channel programs, and more. But that's a notion not yet in place by most tech vendors that completed the channel readiness assessment.
Almost three-quarters of the respondents either don't have a partner advisory board in their current plans, or it's in development. Only 5% said their boards are fully functional, a surprisingly low figure according to Shapero.
"Advisory boards are your pulse on the market if you're putting out new products and features. They really help validate your strategy. You shouldn't leave home without it," he said, adding that it may be a topic for CompTIA's Channel Development Advisory Council to investigate further.
Executive Buy-In Needs to Trickle Down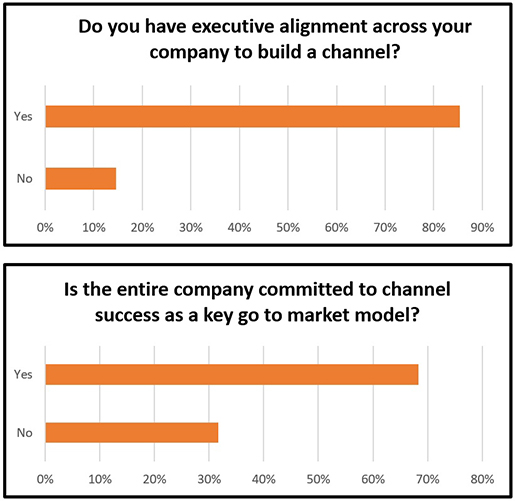 Successful channel programs often start at the top, with C-level commitment from executive leadership that then resonates throughout the organization. That's affirmed by more than 85% of the assessment respondents who say they have executive alignment across the company to build a channel. However, only 68% of tech vendors said their entire company is committed to channel success as a key go-to-market model, indicating that executive support for the channel may not have trickled down to the rest of the company.
"It's like moving a big ship, the back of the ship moves very slowly," said Orsini. "The executive team could be in agreement, believing that the channel is important to the future of the company and that's where they want to direct their efforts. But adoption across other teams, particularly sales, could be more challenging. Sales teams may see the channel as competition because you're putting their income at risk. If you're at parity with compensation between direct and channel sales, it shouldn't matter. But salespeople are protective of revenue streams. They're tentative of the channel."

Channel Partners Paid at Parity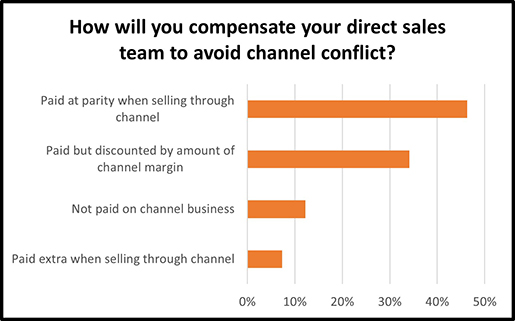 The tech vendors were asked how they compensate their direct sales teams to avoid channel conflict, which can occur when vendors and partners compete against each other for the same prospect—a scenario in which neither side really wins.
Nearly half (46%) of the assessment's respondents said their direct sales staffs are paid the same for selling through the channel, and another 7% even pay extra when selling through partners. Still, 34% see their direct sales pay is discounted by the channel margin and 12% aren't paid on channel business at all.
"If you have a channel sales strategy, you have to treat it exactly the same as internal/direct," Orsini said. "Pay at parity, regardless of the route to market. Sometimes, a vendor may think they'll take a financial hit if they don't sell direct. But a channel strategy is casting a wider net without adding staff. You make up in volume what you may not get in margin. Another point to add, smarter vendors have published and make available their channel conflict policy. Partners want to know how protected they are in channel conflict. Prepare for that. You don't want them to say, 'Our vendor competed against us.'"
Be Prepared: Channel Growth Takes Time
More than half of the respondents expect that the channel-related portion of their overall revenue will still be less than 50% in three years. That's perhaps indicative that many of the tech vendors that completed the assessment are still developing that part of their business, according to Shapero.
"If you're looking to transform from a legacy business model, enterprise or e-commerce, and build a channel organization, a three-year transition is reasonable planning—for any size business," Shapero said. "If you're not trying for 100% channel out of the gate, it takes a certain commitment."
Overall, vendors are making progress ramping up channel initiatives, but even companies with established partner programs can still derive value from the channel readiness assessment, according to Shapero.
"If you're considering a channel strategy, fill out the assessment. If you just want to improve what you already have, fill out the assessment. It's like having a consultant for your channel readiness," he said. "It's prescriptive on the back end as it gives you practical input on what next steps you should do. Even if you already think you have it down, you'll learn more. It's well worth the time."