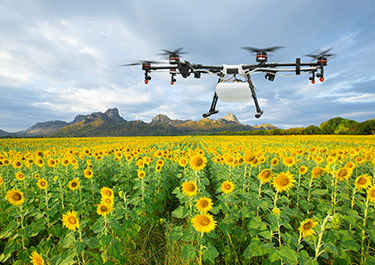 "Drones are good." That's what Frank Segarra, CEO of ConnexiCore and Jon Tull, CEO of Dronifi, co-chairs of CompTIA's new Drone Advisory Council (DRAC) want you to know.
Opportunities for drone-based services are exploding. Survey assessment, construction, agriculture, thermal mapping, predictive analytics…the list of creative ways unmanned vehicles can be applied to improve efficiencies and add value to businesses is growing as fast as you can get a drone into the sky. But as with any emerging technology market, the tech and its applications are moving faster than regulations and our own ability to comprehend potential repercussions can keep up. Getting ahead of this bisection is vital for the drone service industry.
It's one of many challenges facing the DRAC, which held its first in-person council meeting in Dallas March 12 to 15. Facilitated by CompTIA, discussions delved into industry trends and challenges playing out in the market, looking at likely near-future scenarios regarding influences like FAA regulation and on-the-cusp technology that will impact adoption, and of course factors that can limit or enable further growth in an industry looking to soar.
Vice Chair Enrico Schaefer, UAV and IP attorney at Drone Law Pro, believes the DRAC can play a significant role by becoming the "voice of the drone industry." It will take time and it will take focused effort. But it all starts with a coming together to share thoughts, struggles and successes.
This first get-together for the DRAC was part of a regular meeting series among CompTIA's Joint Advisory Councils. These Councils also include the Smart Cities Advisory Council (SCAC), the Business Applications Advisory Council (BAAC) and the Channel Advisory Board (CAB). CompTIA's big-tent approach to connecting disparate business technology sectors together is looking like a hit. Co-Chair Jon Tull especially appreciated the opportunity to engage the Channel Advisory Board and learn about how the IT industry has grown through established routes to market and how the drone industry might be able to capitalize on that success. To share opportunities for the enterprise level drone market, "access to the CAB is huge," Jon said.
Their goals are lofty but attainable:
Identify and encourage quality drone operator training programs.
Generate ROI information and case studies to help communicate not only the market opportunity for service providers, but the efficiency and monetary savings clients can experience.
Identify and help establish paths to success.
Establish business best practices, the lifeblood of an emerging market.
There are some that are not convinced that drones are a universal good for business, the economy, public health and privacy. There are questions of reliability and safety. There are concerns over the scruples of operators. The aesthetics of our sky being criss-crossed with buzzing hunks of metal and plastic can easily portend the coming robotic dystopia.
But those are likely just initial growing pains of the drone space. When crop blights are stopped before they start, medicine is brought to remote disasters and people no longer climb massive towers among power lines, the DRAC is hoping you look up and think, "Hey that's neat. Drones are good."