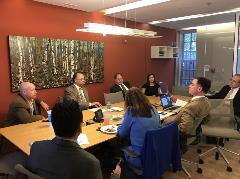 On May 15th, the CompTIA Space Enterprise Council hosted Michael Bonadonna, Executive Secretary, Space Weather Operations, Research and Mitigation, NOAA and John Cullen, Senior Advisor for Program Strategy, National Land Imaging, US Department of the Interior. Bonadonna is the US lead for our country's space weather policy.
In his presentation, Bonadonna mentioned that the U.S. is due for another "Carrington" event. The solar storm of 1859 (also known as the Carrington Event) was a powerful geomagnetic solar storm during solar cycle 10 (1855–1867). A solar coronal mass ejection (CME) hit Earth's magnetosphere and induced one of the largest geomagnetic storms on record, September 1–2, 1859. The aurora borealis was seen as south as Cuba. A solar storm of this magnitude occurring today would cause widespread disruptions and damage to a modern and technology-dependent society. Bonadonna stated that we are due for a "100 year event" in the near future.
Cullen spoke of the need to update our national land imaging architecture as we are at an inflection point. There are at least twenty different federal agencies that support our architecture.
David Logsdon is the Senior Director, Public Sector, Federal Civil, Public Advocacy