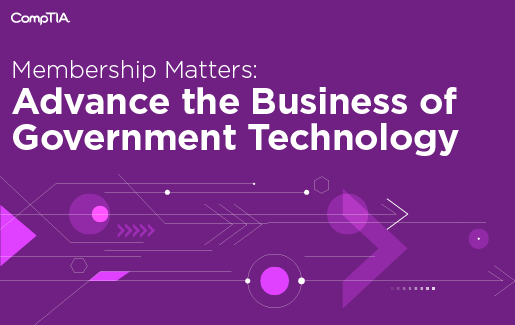 Part of the government's job is to create and enforce regulations. But it's not as straightforward as it sounds. In order to ensure these policies are fair and just, the government needs the help of experts in the business of technology. This input from the people can come in a variety of ways. From formal public-private partnerships to multi-country roundtables and state and local government organizations to membership in your industry association—there's no shortage of ways to make your voice heard.

Leveraging Public-Private Partnerships

One of the ways technology companies of all sizes can make their mark on the industry is by participating in public-private partnerships. Public-private partnerships bring together technology companies and important government agencies to collaborate and solve some of the most crucial issues facing both the public and private sector.
One of the most critical issues is, of course, cybersecurity. CompTIA's The Business of GovTech focused on this issue during a discussion with Jamie Brown, senior director of global government affairs at Tenable, a leading provider of vulnerability management cybersecurity solutions. Brown speaks to how both the government and the private sector benefit from working with each other.

"Leveraging public-private partnerships is all about engaging stakeholders," Brown said. "It's feeding best practices and effective guidance. It's important for cybersecurity where technology and risks change so rapidly."

Members of CompTIA's Public Sector Councils are in prime positions to contribute as the government seeks input on key vulnerabilities and current attacks in order do everything from protecting the nation's electric grid to keeping emails safe from hackers.

Brown says the benefit of these partnerships to the government is access to the most innovative experience and expertise the industry offers, while the benefit to the private sector is a partnership with a convening authority.

"The technology expertise and experience combined with the authority of the government equals effective technology policies," Brown said.

CompTIA Public Sector Councils connect leading technology companies and dedicated professionals with key government officials to enhance their abilities to grow their businesses and careers. Join today to start building these partnerships.
Observing Space as a Platform for Technology

CompTIA's involvement in the space market may be intriguing at first blush. But really, there's an obvious connection. While space travel and exploration likely come to mind when you think of space, as a technology association, we're interested in the technology companies that operate in the space industry—and there are plenty of them.
"CompTIA has a unique proposition for Space Enterprise Council members," said David Logsdon, senior director, public sector at CompTIA, in a recent issue of CompTIA World magazine. "For many of these companies, you're not space companies. You are data companies that are utilizing a satellite platform to deliver data services—satellite imagery, broadband communications, value-added GPS services. We are focused on membership from a technology perspective and we see space as a means to an end. It's a much larger conversation," he said.
Members of CompTIA's Space Enterprise Council are front and center in discussions about space and the innovative technology system. The council provides insight on the economic and national security impacts delivered to Americans from our nation's space program.
A big part of that mission is a concerted effort to strengthen ties with Latin American and Brazilian partners.

"Latin America is a strategic market for U.S. space companies, with several long-time allies in the region. Latin America is considered by most experts as a hotbed for satellite technology innovation, particularly in the small satellite sector," Logsdon said.

That's why CompTIA hosted the inaugural Americas Space Summit last month. The virtual event featured presentations on space activities, technological innovations, challenges and opportunities from leaders from key Latin American nations such as Argentina, Bolivia, Brazil, Chile, Colombia, Ecuador, Mexico and Paraguay. Leaders from NASA and the U.S. Department of State also participated in the event.

Building relationships with key space leaders in these countries creates opportunities for CompTIA member companies to further their partnerships and collaboration.

Interacting with Local Government Decision Makers

We often hear that real change starts in our own backyard. That's why elections at your local community level and state level are so important. The first step toward making a difference happens in your sphere of influence—and that holds true for the technology industry.
The Public Technology Institute (PTI) offers CompTIA members the chance to just that. The only technology organization created by and for cities and counties, PTI works with a core network of leading local officials to identify research opportunities, provide thought leadership and professional development opportunities, share solutions, provide technology support services and address the many technology issues that impact local government.

Of course, after more than a year of virtual everything, local government really had to step things up. Dr. Alan Shark, executive director, PTI, says with the pressure to do more with less, technology has become an inescapable ally in helping to reduce costs and work toward making government work smarter. And that's something he predicts we'll continue to see in 2021 and beyond.

Having conversed with hundreds of local government tech leaders, Shark believes that we'll see a desire for greater local state collaboration—especially with cybersecurity concerns.

"Many state CIOs have indicated a desire to include local governments in their strategic planning and have expressed a strong desire to do more by way of service offering, information sharing and group purchasing," Shark said. "Among the priorities, cybersecurity always comes up first."

In a SharkBytes conversation with Brad Hartig, CIO, City of Scottsdale, Shark brings up this point. Hartig agrees that the sharing of information is key.

"We're a member of an organization where there's a combination of industries—government, banking, electrical, water and transportation, with FBI representation. All of the CISOs get together and we're seeing a lot of really strong collaboration," Hartig said.

"Things will pivot from one industry to the next and oftentimes government is not the first in line," he said.

As we continue to see technology evolve, it's the people behind the innovations that are in the position to make a difference. We all know that new technology spurs new challenges, and meeting these obstacles head on together is the only way to continue to grow.
This article is part 9 in a 10-part series designed to break down CompTIA member benefits in a meaningful way for organizations and individuals. Read the full series:
Part 1: Advance the Business of Technology with CompTIA Membership
Part 2: Advance Your Tech Business with CompTIA Membership
Part 3: Advance Your Career in Technology with CompTIA Membership
Part 4: Make the Most of Your CompTIA Community Membership
Part 5: Advance the Cybersecurity of Your Tech Business with CompTIA Membership
Part 6: How CompTIA Membership Can Help Evolve Your Business with Emerging Tech and Solutions Selling
Part 7: Advance Your Technology Workforce with CompTIA Membership
Part 8: Advance the Business of GovTech: Opportunities at the State and Federal Levels
Part 9: Connect to the Business of Government Technology
Part 10: Make CompTIA Your Partner in Tracking International Trade