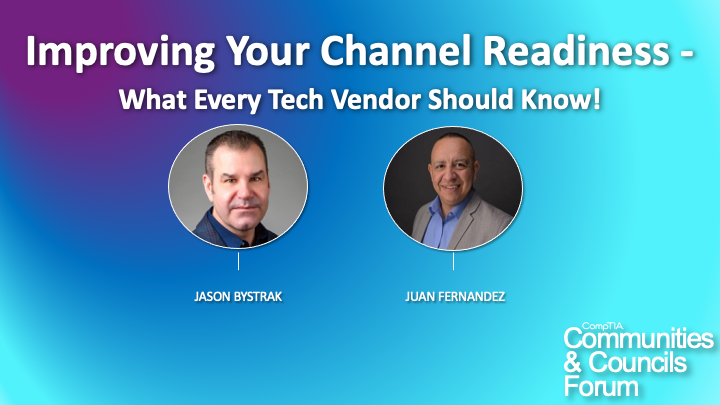 While technology vendors can be more successful if they engage with channel partners in a meaningful way, what exactly does that entail? There are a lot of aspects to consider, details to not miss, and lessons to be learned. Without proper guidance, the road can be a bumpy one.
But CompTIA's Channel Development Advisory Council recently published a Channel Readiness Assessment tool that gives technology vendors an opportunity to find their strengths and weaknesses, as well as prescriptive advice on how to improve.
The tool was developed by executives representing multiple components of the IT supply chain, including vendors, distributors, and solution providers. It's designed to give honest feedback and explain why adjusting to the modern buyer's journey should matter to technology vendors.
Jason Bystrak, vice president of the cloud unit at D&H Distributing, and Juan Fernandez, vice president of managed IT services at ImageNet Consulting, both co-chairs of the Channel Development Advisory Council, in a session during CompTIA's Communities & Councils Forum Online why tech vendors should use the tool and why it's important to know where you stand compared to other vendors.
Why Should Tech Vendors Use the Assessment Tool?
"We really put some comprehensive thought into how we could build something really great to help move the channel forward," Fernandez said.
When it comes to strengthening partner relationships, the size or experience of a tech vendor doesn't matter. There are always ways in which a vendor can improve upon its channel programs but identifying gaps and then planning an appropriate response can be a challenge for many companies.
"There's definitely been some opportunities [for technology vendors] to realign with channel partners, so the council decided to sit down and really try to address the issue," Fernandez said. "[We came] up with a meaningful way for us to really help the channel move forward."
The Readiness Assessment Tool provides unique insights based on answers to a series of questions in different areas including strategic planning, financial forecasts and projections, sales strategy, marketing strategy, and enablement strategy.
"It improves your go-to-market [approach]," Fernandez said. "It helps you align yourself with a new marketing initiative. It helps you approach partners in a different way and more meaningfully, which is the one thing that we're trying to accomplish." Technology vendors can't not afford to take the assessment. This gives you a whole channel strategy. It gives you direction. I mean, this is a huge component."
Technology vendors can also use the assessment tool to monitor progress. It's not a one-time deal. The assessment can be taken multiple times, Bystrak said. "You can use it as a benchmark to gauge how your performance is improving in the channel," he added. "By taking the assessment, vendors can see where their strengths and weaknesses are, and where potential opportunities may lie.


Gathering Honest Feedback
While collecting feedback is easy, gathering "honest" feedback can oftentimes be a lot more challenging. For example, the poll results conducted by technology vendors can be misconstrued. Rather than looking out for their channel partners' best interests, technology vendors oftentimes use polls to promote their own initiatives, products, and services first.
Instead of avoiding difficult questions, tech vendors should seek to embrace them, which is exactly what council members did with their limited time together. "We asked a lot of hard questions not everyone gets to ask," Fernandez said. Tackling tough questions ensures that both channel partners and technology vendors are better aligned for future successes.
"We had a lot of fun having a lot of hard conversations and really trying to help move things in a forward direction on how we could actually improve go-to-market strategies, partner engagement, and partnerships alike across the board," he said.
Adjusting to the Modern Buyer's Journey
Even though the tech buyer's journey in the channel has evolved over the years, many vendors still haven't made proper adjustments internally to adapt to the growing and evolving needs of channel partners. "I think we could all agree [that the buyer's journey] has changed a lot," Bystrak said. "Things are being done more in a digital world these days." Helping vendors adapt to the modern buyer's journey, the assessment tool provides detailed feedback, which gives vendors the opportunity to make necessary changes to their channel programs.
"Even if you're an experienced channel vendor, there's a lot of tips and tricks and best practices that you can pull out of this assessment," Bystrak said. "If you're new to the channel, it's really going to be a prescription of how you should approach channel partners to begin with and use them."
There are a lot of critical components to building and maintaining successful relationships with partners, and the assessment tool can help navigate through many of them, according to Fernandez.
"As we start to look at what everyone is looking to do from a customer perspective, it's really about working more meaningfully together and partnering more meaningfully," he said. "It's really great to see that this is actually being brought to the forefront, and really exciting to see."

Catch more CompTIA Communities & Councils Forum sessions on our CompTIA Connect channel on YouTube.